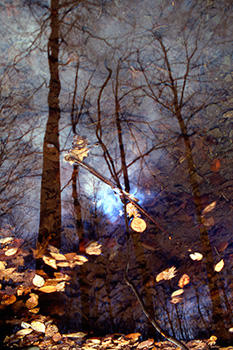 My work does not fit neatly into a niche, but my diverse projects have commonalities: predominantly monochrome, with emphasis on form, light and line, tone and texture. I use my D800, Toyo 45AII, and my iPhone 11 Pro. I photograph what I love.
My ongoing "Old Haunts" project and the more abstract "Emergence" feature nearby outdoor landscapes that, after so many years, continue to reveal their secrets. "Impro Topo" explores light filtering through window curtains and the topographies that result. "Home Body" is the project exploring imprints of time and family on my boyhood home.
I'm in my late 60s. I believe I'm doing my best work. With age and experience comes contemplation, and with contemplation, greater openness, awareness and appreciation of my world. I focus on the "everyday" and the everyday is fascinating. As I encounter less breadth, I discover more depth.
What all of my work has in common is the sensation I have as I make photographs. I call it "mutual osmosis." When I simply allow myself to experience my surroundings, I often have a moment of resonance. Maybe it's what Weston called "the flame of recognition." Something I see has connected with me. As I stare and study to determine exactly what captured my attention, a relationship emerges. I absorb the beauty and the beauty absorbs me. I lose myself and find myself again. It is serene exhilaration.
Above Image - Labrador Hollow